Based on the fact that the cat hijacked my blog last night, it has to be more than obvious that perhaps I had a bit too much on my plate. Don't get me wrong, I am more than enjoying all the doors and experiences that the Texas Bloggers group has opened up to me, not to mention all the amazing women that I have had the opportunity to get to know...some even IRL. With that being said, I have to get more organized and better manage my time...that is definitely something to work towards in the coming months.
Now, on to the good things. Although, I am not an excellent picture taker...I am kind of obsessed. They are all over my apartment as well as stacked and sorted in boxes and envelopes just waiting their turn to be scrapbooked. I LOVE PICTURES!!!!! It seems only natural that I am pairing up with the awesome Sarah @
City Girl Gone Country
for a brand new link-up. Please know that although I am thrilled to be co-hosting with Sarah, "Sunday Snaps" is totally her baby....I am just lucky that she has been gracious enough to let me tag along!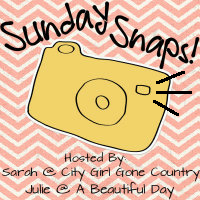 For the first link-up (this Sunday, August 5th) the theme is Personal Best. The rules are simple - you can submit from 1 to 3 photos representing your "personal best", you have to have taken the photos yourself and you need to follow your co-hosts...it is as simple as that. Oh, and please don't forget to actually link-up and include the "Sunday Snaps" button in your post - we want to see your mad photography skills. Sarah and I will each choose our three favorite submssions and post them later in the week. Sunday will be here before you know it...get those cameras and pictures ready to roll!!!
Next on my plate is the first official (DFW) Blogger Event sponsored by the
Texas Bloggers Facebook Group
. As I mentioned earlier in the post, I couldn't ask for a sweeter group of ladies. If you are a blogger in Texas, please check out our group and request to be added...you will not be disappointed! Everyone is welcome, but we listed it as DFW because of the location.
I am lucky to be co-hosting this event with Sarah @
City Girl Gone Country
and Taylor @
Goings On In Texas.
It is going to be a great evening of painting, wine, snacks and turning great blogging friends into great friends outside of our blogging world. Once you have been added to our Facebook group, click on events and get all the details. You must register in order to have a spot held for yourself, so you will have to take it one step further than just saying that you will be attending. The link to the registration page can be found at the bottom of the event page. Sarah, Taylor and I are making plans for a great evening and would love for you to join us if you are in the area. If you are interested in learning more about A Piece of Work, you can click
here.
From that link you can also click the calendar and on September 8th you can click register and get signed up that way as well. If you have any questions about this event, plesase feel free to contact me.
On a final note, I am particpating in a month long giveaway over at
Finding My Way In Texas
.
I am Day 2, so if you are in the neighborhood check it out. I am giving away a 12x12" custom photo collage. Somebody's gotta win..why not you?