I had a seriously busy weekend. I worked the True Value Fall Market for my company....it was Friday, Saturday AND Sunday.
Booth at the True Value Fall Market
But wait, there is a plus side - it was in Salt Lake City, Utah. Another one of the many places in the good ole US of A that I have never visited. Since the purpose of the visit was to work, I didn't spend a lot of time outside the convention center, but Saturday after the show was closed for the day and the men folk had moved on to college football (what else would they have been doing late Saturday afternoon / evening) I was bound and determined to check out Temple Sqaure.
The beautiful temple
Luckily, it was only about four blocks from our hotel. I did not spend a lot of time there, but the temple is beautiful and the grounds are immaculate....beautiful flowers throughout.
Lovely flowers on the grounds
All of the buildings are accessible with the exception of the actual Temple and there are a wealth of knowledgable guides throughout in case of questions. The Assembly Hall is beautiful as well and if you are lucky you can catch an organ concert or a Mormon Tabernacle Choir rehearsal....which I heard was absolutely amazing.
Assembly Hall with some pretty cool lighting
Close up....the materials used to build Assembly Hall were leftover from construction of the Temple
Another view of Assembly Hall

If you are ever in Salt Lake City, don't miss it. It is free to tour and amazing to see! Don't forget to link up with SUNDAY SNAPS....you have through Friday! Have a great week!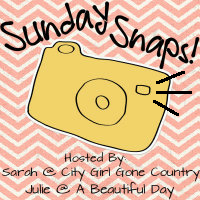 Also linking up with: