For once I am a little ahead of the game on my link up for SUNDAY SNAPS...and yes, I am liking it!!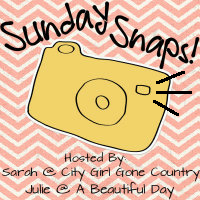 Anyway, even though I haven't been talking about it much on the blog....because for some reason when I do, it usually throws me off - at least where fitness is concerned, I am currently obsessed with completing a 5K (running the entire way). I am sure to many of you that is a walk in the park but for me it is a huge milestone. I
am
was the true epitome of the "couch potato" in the Couch Potato to 5K training program. In the early weeks, I was doubting myself at every turn. This morning I completed week 7 and only have 2 weeks to go! I have been using the timed version as opposed to the distance version, so I will still have some work to do after the 9 weeks are complete, but people I AM DOING IT!!!!! My first 5K is scheduled for October 27th.
Got some bright new running duds ...and best of all they were on the cheap!!!!
After Week 7, Day 2....I managed a smile!
So far I have only attempted one outdoor workout (I think in week 4)....
usually I hit the treadmill, but I did an outdoor run this morning and managed to survive,
humidity and all.
I hope that you are having a wonderful weekend! Don't forget to link up tomorrow...the link will go live just after midnight on Sunday morning. Hope to see you there!