Not that it is any big secret....but
Katie
is one very timely scrapper. In most things scrap related, I am LITERALLY years behind. This girl is on top of it!!! Less than two weeks ago, I finally got to meet her sweet self in person....and now, here it is, already scrapped and ready to share on Third Thursday Scrapbook Stories.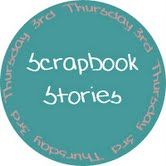 The visit was a whirlwind, but we tried to squeeze as much as we could into a very short time (despite the ridiculous heat that we are still experiencing in TX - despite the fact that Fall is right around the corner). I am so glad that we finally managed to get together, she is a sweetheart and so wish that we lived closer....maybe she would keep me scrapping more regularly! ; )
********************
Happy September!
A few weeks ago, I got to fly out to Texas to visit Julie! She was a great hostess and I really had such a great time exploring a new city!
And even cooler than seeing a new city was meeting a "new" friend. I'm not sure I should say new, because I've gotten to know Julie from our blogs for so long, but I'd never met her in person before. Either way, it so fun to get to meet her in person - Julie is very cool to hang out with! I had a wonderful time!
Of course, you knew there was going to be a scrapbook layout. And what better place to share than here on Julie's blog!
Now, if this layout looks familiar, its because its scrap lifted from
this one
...which was based on
this sketch
! As I was flipping though my scrapbook, I realized I use this layout all the time!
Are there any layouts that you use all the time?