I am excited to be sharing a contributor post with you today from Katie @
Katie Stories.
Katie will be sharing a post each month on the third Thursday. Today, Katie is showcasing one of her two page scrapbook layouts. This is one of the things that I love about Katie's scrapbooking...she loves to use a lot of pictures, just like I do. I hope that you enjoy her post and make sure you stop by her blog...it is chock full of her crafty goodness...and don't forget to tell her I sent you!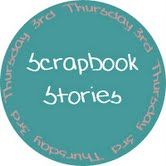 Hi everyone!
I'm so excited for my first contributor post here at A Beautiful Day!
Today I'm going to share a two page layout I created about our visit home to New York for
Labor Day
. I had a
ton
of pictures from the weekend, so I decided to scrap lift
this page
that I made about our move to Chicago (which I based on a sketch in the August 2011 Scrapbooks, Etc. - I really miss that magazine so very much!)
It always amazes me how much a layout can change based on the pictures and papers you use. In fact, I'm going to scrap lift this layout one more time to create a page about my July visit to New York. Its quickly becoming a favorite of mine to fit in lots of photos!
Journaling:
Over Labor Day Weekend, AJ and I flew home to NY. Of course, we both had to work Fri. so we got in late, but went right out east (thanks to the Vinny van). Tommy and Jamie came out east too - it really was a party! We had a wine tasting of local wines, kayaked, enjoyed the pool, BBQ-ed, sat around the fire, toured the neighborhood, went to Boardy Barn and enjoyed the end of summer as a family!
I have to say, I am really proud of myself for using this paper. I got it in the
Jillibean Soup Mystery Box.
Normally, I'd totally hoard that, but I decided to just jump in and use it! I am so happy that I can enjoy the paper now, instead of it being all locked up in a box!
The white flowered paper is Jillibean Soup, as are those pretty orange letters - all from the Mystery Box. The yellow paper was in my stash, and the green polka dot washi tape is one of my newest treats from Michaels! It was buy one, get one free, how could I pass that up?!
Well, that's it for me today! I'll be back next month with another layout. Until then, I'd love to see your layouts featuring lots of pictures! Let me know where I can check them out and I'll be sure to stop by and see them :)
~Katie
Oh, I almost forgot....I am guest posting today over at
Naturally Fit Sisters.
Brittany and Cassey are super sweet ladies and I am honored that they are allowing me to take over their blog for the day.