It is the third Thursday of DECEMBER and time to share a bit of holiday goodness from
Katie
. Can't tell you how much I love this fun and festive holiday layout she did, and what a great introduction to her holiday pages!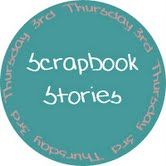 Hi everyone!
I cannot believe that it is already the last Thursday before Christmas! I have no idea where this month went!
Are you all ready for Christmas yet? I am not! All of my presents were shipped to New York, so when I get in tomorrow evening, I'll have to wrap everything (and look through it to see just what I bought for everyone!)
But, despite all the hustle and bustle of the season, I did manage to fit in some Christmas scrapping.
For this layout, I used a mambitKIT (this
one
). I don't normally scrap from a kit, but it definitely makes scrapping at this time of year much easier.
I decided to feature some of my favorite shots from this month - the tree at Daley Plaza, the Christkindlemarket, clementines (called "cuties" here in Chicago - I just love that!) and the white Christmas lights near my apartment.
I really like these kind of "wrap up" layouts for a season like this. This page will be used as an opener to start out the Christmas pages in my album. Then, I will add my pages about Daley Plaza/Christkindlemarket, Zoo Lights and our neighborhood's decorations after this.
Do you ever create month-in-review or wrap ups for your scrapbook?
Have a wonderful holiday season!!!