Happy Monday, and it is is time for First Monday With Megan. Just in time for the holidays
Megan
is going to show everyone how to make a beautiful Christmas ornament wreath. Based on the
wine cork wreath
that she helped me with, it looks like the process is the same and really not at all difficult. But just know it is time consuming, especially if you are tackling it alone. In my opinion, the results are well worth the effort! As always....she did a beautiful job!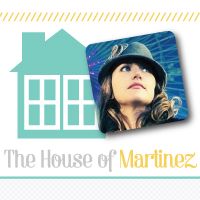 I've always loved ornament ball wreaths and have had them on my list of craft projects since last Christmas. Martha Stewart, Better Homes and Gardens, Southern Living, and Good Housekeeping have all had versions of this wreath, and many bloggers have made them too.
There are several different techniques for making these: you can either hang the ornament balls on a wire coat hanger, bent into a circle or you can hot glue the ornaments onto a wreath form. Last year I opted for the wire hanger approach but it did not work as well because it was a difficult to make a perfect circle and keep the coat hangers connected with the weight of the ornaments. This year I went with pre-made styrofoam wreath forms and hot glue.
MATERIALS:
- Styrofoam wreath form
- Tulle
- Hot glue gun
- Hot glue sticks
- Various size shatterproof ornaments
(in colors of your choice)
- Scissors
I first wrapped the wreath form with tulle to avoid the wreath from flaking, but also to avoid scratching our front door and prevent melting once the hot glue is applied.
Put some thought into how you plan to display your wreath before you begin hot gluing. I started hot gluing my largest ornaments on the inside of the wreath and along the outside perimeter. If you plan to hang your wreath, I suggest tying tulle or ribbon around the top of the wreath before you begin hot gluing ornaments on the face of the wreath.
After hot gluing the larger ornaments, I begin using medium and smaller sizes to fill in holes. You can keep your color palette as simple as you want, or try various colors and finishes (I've got disco ball, glitter, striped, frosted, mirror). I stocked up on various styles at Target's Black Friday sale this year and also changed all my holiday decor to match my
12 Days of Christmas plates
. Buy early and purchase lots!