Please give a warm welcome to Emily who blogs over at
Insanity Rules
. She is the fifth and final installment in my Fellow TEXAS BLOGGERS Series....well at least for July anyway. Emily is mom to three super cute boys and if that doesn't keep her busy enough, she is also super crafty. I don't know how she squeezes it all in. She changes out her mantel according to the season or holidays...I am lucky that I get mine changed out once a year for Christmas. Enjoy a little glimpse into Emily's world as well as her crafty goodness.....
Hey y'all I'm Emily from Insanity Rules w/ three little boys. Yep that's right I am the mom of three energetic, some what crazy little boys that add to the insanity that is life.
Aren't they just so handsome. I know I'm a little biased but that's what being a mom is all about right? Okay not really but I do so enjoy hanging with my little men. I am so excited to be here at Julie's blog today. I wanted to share with y'all my new found love of creating subway art. I love to hang it all over my house and I have this thing for redecorating my mantel every time the seasons change. So, this new obsession has come in handy. I got My Memories digital scrap booking software last year and this has come in so handy. So, let me show you what I make and then I'll tell ya how.
Aren't they so much fun! You can always find great blogs that will let you down load the subway art that they have created for free too. I make mine using photoshop and then importing the pictures from the My Memories software. I just open up a blank document in photoshop. Whatever size you would like it. I do 16 x 20 over my fire place and then I have these weird little nooks in my house and I will usually do an 8 x 10 for those along with some 5 x 7's. You can check out my summer decorating soon on the blog! You just open up the document and then have at it. Picking fonts, colors, words etc... Some times I will make a list of words that apply to whatever art I happen to be making at the time. I then just open up the My Memories software and look through what ever scrap booking kits I have to add fun little pictures. It's really simple and I so enjoy doing it. It can be a little time consuming if you don't have a list of words ahead of time. You would think that you'd just be able to pull words out of a hat but sometimes I get really stumped. My boys are great at helping me come up with words though!
Well thanks for letting me stop by and share my new favorite craft to create with y'all. I hope that you will stop by and share in the Insanity that is life with me. Thanks Julie for letting me hijack your blog for awhile. Have a wonderful day y'all!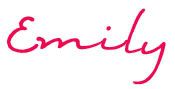 Thank you, Emily for sharing a bit of your crafty passion with my readers. I wish that I was half as committed to decorating with the seasons!