It's that time again......Third Thursday Scrapbook Stories with
Katie
! Just like someone else I know, Katie is about to be up to her ears in moving boxes. Whereas I will just be going across town, Katie and her fiance AJ are making a huge move from Chicago to Baton Rouge, LA. What an adventure! I am thrilled that she is going to be closer to Texas....still a long drive, but much better. Katie and I WILL meet eventually...I just know it! She hasn't had much time to scrap lately, but she did go back through some of her completed albums and shared some of her favorite layouts....how much fun is that!!!!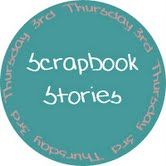 Hi everyone!
I can't believe that it is already the end of the month! I feel like I say that every month...lately time is just flying by!
Recently, Julie mentioned
matting photos
in layouts. Which lead to a discussion about how we both used to, but we don't anymore (or at least, not as often!)
And it got me thinking about how my style has changed over the years.
Most of my "old" scrapbooks are still home in New York. But I did have ones from 2008-2012 here in Chicago. Of course, I pulled them all out and went for a little trip down memory lane!
I pulled 4 layouts. One from each of the books I have here in Chicago to share with you guys today!
This layout is from 2008 (when I was still in college...wow!) My family went to visit Acadia National Park in Maine. I was so proud of myself for using the map of the park on the page!
This 2010 layout was actually the first one I ever shared on my blog! I loved the patterned paper and how it looked like a mish mash of other patterned papers. At this point, I was super uncomfortable mixing patterns myself. I usually just used patterned paper as a base, then put my pictures on top.
Ah! More patterned paper. This time, I combined it all myself. This layout is from 2011. I love that I started journaling more.
I know you guys have seen this one already, but it is my favorite 2012 layout. The patterns, the washi tape. All of the photos! I just love it!
After looking at all of these, I realized I love patterned paper and lots of pictures on my layouts. I'm also really glad that I've started journaling more, I wish I had journaled on my old pages more, it would have been fun to read what I may have written!
Do you ever go back through your old layouts? How has your style evolved, and what has stayed the same?
I hope you enjoyed seeing Katie's layouts....I know that I did. I love how everyone has their own distinct style. Katie and I's styles are similar in that we don't go overboard on embellishments and we love to use lots of pictures on our pages. That is probably what drew me to Katie's layouts in the first place. Great minds DO think alike! In between packing boxes this weekend, I hope to put the finishing touches on my Chicago scrapbook and possibly get the whole thing posted next week. We will see how that goes...I have a few simple embellishments on a couple of pages as well as the cover page and that is it!