Where in the world did January go????
Megan
and her hubby are taking some much needed R & R in the form of a week long Caribbean cruise, but before she left she shared this super cute and what appears to be fairly simple Valentine DIY that she stumbled upon.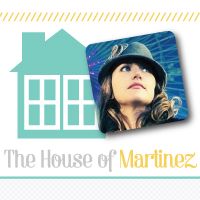 ********************
DIY: Valentine's Fortune Cookies
In honor of Valentine's Day next week, I thought it was only fitting to create some "heart-y"crafts that are quick and easy with these paper fortune cookies. I found this great tutorial from
Design. Wash. Rinse. Repeat.
MATERIALS:
Valentine-esque patterned paper




Glue




Various messages printed on white paper
Download the pattern
which includes 4 patterned circles and 10 quotations, but you could also easily use your own patterned paper and create your own personalized sentiments.
For a complete package, pick up a Chinese take-out box container from your local craft or paper store and fill with your fortune cookies and a favorite treat.
Thank you so much, Megan, for finding and sharing this fun Valentine project. The perfect little something for those of us that are getting a late start this year!
********************
I had a crazy busy weekend, so I hope you will stop by tomorrow so I can fill you in on all the details. Have a wonderful day!