Good morning! April 1st already and a Monday at that. That means we have the pleasure of hearing from Megan. Megan has been remodeling her master bath and has finally reached the end. I can't wait for her to share the entire project on her blog, but there is a little teaser at the end of the post and trust me.....it just leaves you wanting more! Wait till you see the awesome DIY project she did to add some finishing touches to her new bathroom....being a beach lover as well, I am in love!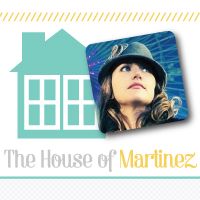 DIY: Starfish Art
I was on a mission to find some nice seashell artwork for our master bathroom remodel. I found so many lovely prints and 3-d pieces online but the prices were more than I wanted to spend. I really liked these two examples from

Joss and Main

, each around $150. I knew I could recreate them so got to work last weekend and saved a couple hundreds bucks.
MATERIALS:
- Starfish (various sizes if you prefer)
- 20 x 20 frames
- 16 x 20 sheet of linen paper
- Paintbrushes
- White acrylic paint
- Blue acrylic paint
- Ruler
- Mats for the frames
- Exacto knife
- Tape
- Wax paper
- Hot glue gun
I bought the large white
Ribba frames
from IKEA months before and set them aside for a project like this. I bought the bag of starfish from
Michael's
craft store. Instead of using multiple small starfish like the example above, I opted for one large starfish in the middle of the frame.
I thought about leaving the starfish in their natural color, but there is so much white in our bathroom I did not want them to appear dirty or dingy. So I laid a sheet of wax paper down to paint them white. Paint both front and back of the starfish.
Next, get your large sheet of linen paper and paint your background color. I chose to paint the background of the frame the same color as the walls in the bathroom. The frame mat is square so I roughly painted an area for the background to show through. After the paint drys, trim the paper to fit the size of your frame mats and tape the paper to the under side of the mat.
Then, hot glue the starfish to your paper and let cool. Place everything in your frame and get ready to display!