Katie to the rescue! In all honestly, if Katie hadn't been on the ball with her Third Thursday post I would most likely have been MIA through the holiday. It has been a little rough this season, but never fear....this too shall pass. She, as always, is on top of it all. She is rockin' an amazing digital December Daily, she is winding up her 2013 Project Life and still scrapping everything in between...yep, she is my scrapping hero! If you are new around here, you should definitely check out all of Katie's crafty goodness
here
.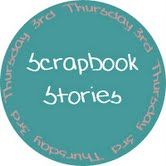 ******************************
Happy Weekend Eve everyone!
Wow, I cannot believe this will be my last post here in 2013!
Knowing that the year is ending, and a new year is beginning has really given me a big burst of Project Life energy. I am so excited to finish up my documenting for this year's album, and begin my 2014 album (with my new honey core kit!) soon.
Of course, finishing up the year means I have lots and lots of
Project Life
layouts to share with you all!
This layout is from the week after our
honeymoon
. We spent this week trying to get used to being back home. And I spent a lot of time grading! I also legally changed my last name this week! Even though I still sign my old one sometimes still!
The next week was Halloween. I went all out food wise for Halloween this year - candy corn colored waffles,
ghost pizza
and
jack o'lantern quesadillas
! (Not all on one day!) We also had a blast with my last minute costume witch's hat!
Its the last day of classes here today, so I am hoping to catch up on Project Life up to last week, so after Christmas, I am almost ready to start my new book!
Do you have any crafty goals during the holiday break?