Katie
is not only a Mrs. now, but she is just one day back from her Bahamas honeymoon....she better be rockin' an awesome tan! I would have been more than understanding had she asked for a reprieve this month with all that she has had going on, but as always, she was prepared. I actually received this post mid September. Not only was she early but she made sure that her layout was season appropriate!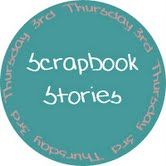 ******************************
Hi everyone!
October is going to be a crazy month for AJ and I. I'm saying "going to be" because I'm writing this post way way in advance so I can get it to Julie before it posts
(which I guess would be today!)
The reason I have to write it so far in advance is that AJ and I are getting married on October 5! And we are going to be on our honeymoon until October 16
(which I guess would be yesterday...)
So, here I am in August, writing this post for Julie :)
Aside from October being our wedding month, October is also home to one of my favorite holidays - Halloween.
Now, some people are shocked to hear that Halloween is one of my favorites. Scary movies, blood, gore and anything haunted totally freaks me out. As in, afraid to turn off the lights, crazy nightmares, can't sleep for days because of a movie commercial, kind of freaks me out.
But, Halloween also has an adorable side. A smiling jack-o-lanterns, nice witches, friendly ghosts side. That's the kind of Halloween I like!
And this Halloween paper fell squarely on the "cute" Halloween side, so of course, I had to use it!
I wish I could remember what paper pack this adorable paper came from. I know I bought it at Michael's, but despite all my online searching, that's all I can dig up.
My other favorite thing about this paper
(aside from the cuteness)
was that all I had to add were my pictures, the journal spots and the "fa-boo-lous" ghost. Everything else was already there for me!
Sometimes its so nice to just have to add my pictures and move on. Especially when it is already summer and I've yet to scrap Halloween!
Do you ever use pre-embellished papers?