Katie is here today sharing how she solved a scrapping dilemma...Project Life to the rescue! In case you haven't visited Katie's blog yet (and if not.....why the heck not????), she documents everything! In my book, she is a super scrapper and that is what drew me to her blog in the first place. Anyway, she hit a roadblock in her engagement album and finally came up with a way to showcase her Save the Date cards - just the way she wanted!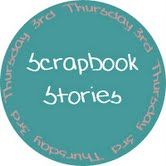 Happy July everyone!
I hope your summer is going well!
Last fall and winter, I was working on an
engagement scrapbook
. But I kind of stalled out when I got to the Save the Date page. You see, I really wanted to show the front and the back of the envelope, but I didn't want to cut it up. So that posed a few problems, and I did what I always do when a page isn't working for me...
I put it away and working out other things until a better idea hit.
6 months later, something finally dawned on me.
No one said scrapbook pages had to be one sided!
I used a Project Life insert and created a page that has two sides. I'm so excited about taking the inserts from Project Life and bringing them into my regular scrapbooking!
And I love the different size layout in my book. It adds such a different dimension. I think I'm going to be using lots of different sizes in the same book now!
What about you - do you ever use varying sized layouts in your books or do you like to have all the same size pages together?