It is that time again....Third Thursday Scrapbook Stories with
Katie
. If you have taken the time to check out Katie's blog (and if you haven't.....get yourself over there!), you know that she currently resides in Chicago - such an awesome city! But on Saturday, she and her fiance are embarking on a new adventure.....the are moving to Baton Rouge, LA. I know she is going to miss the fabulous view from her crafting desk, but I am so excited that she is going to be considerably closer to me in little ole' Texas. We have decided that we are going to meet, no matter what we are going to make it happen! Before I get carried away, I will turn it over to Katie....she is all organized with a craft basket for her long drive on Saturday.....Project Life must go on!!!!!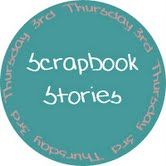 Happy Third Thursday of March :) I hope you all enjoyed the first day of spring yesterday!
Like Julie, I am in the middle of a big move. Right now, all of our things are on a truck on their way to Louisiana. Including
all
most of my craft things.
I say "most" because I kept out a few essentials for Project Life. I couldn't be completely craft-less for over a week!
Now, I know that I
should
be able to complete Project Life with just the core kit + binder + pictures. But lets be honest here...I love having way more things than I actually need at my disposal. What if I suddenly need a stamp with red ink and I don't have it on me! I just like to be overly prepared. And it all fit in the cute little box, so why not?!
1.
Project Life Core Kit in Cobalt
my current project life kit
2.
Martha Stewart Ink Pad Sets
lots of colors, not a lot of space
3.
Sharpie Pens
my favorite for journaling
4.
Clementine Cardstock
(to be honest, not sure why I have this...its for the kit I will start using on May 14 of this year...didn't really need it this week!) +
3x4 Grid Cards
5. Lots of
$1 stamps
from Michaels
6.
Corner Rounder
(this isn't the same one I use, it has no markings on it and I can't find it anywhere, this is the one that
Becky Higgins
recommends
for PL)
Not pictured: Scissors + Adhesive
And with just the things in this kit
(okay, with just half the things in my kit...but seriously, I need all of that stuff!)
I was able to put this layout together in my otherwise empty apartment!
What would be in your essential craft kit?