First Mondays mean it is time to hear from Megan from The House of Martinez. She is going to share what looks like a quick and easy process for making your very own hoop earrings with a punch of color. They are so easy and affordable you can make a pair for every color you can imagine....not to mention great gifts!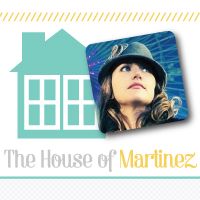 DIY: Beaded Hoop Earrings
It's no surprise I like color. And what better way to add color to any outfit than with accessories. Adorn your ears with these DIY beaded hoops that are super cheap and easy to make in an array of colors.
MATERIALS:


Seed beads (any colors you prefer)


Plain wire hoops (the size of the hoop earrings is up to you)


Needle nose pliers
To make the earrings, thread beads onto the hoop. I found it fastest to cup the beads in my palm and pick them up with the wire hoop.
Then with a pliers, bend about 1/4" of the end of the wire back at a 90 degree angle. (Don't make the angle any sharper, or it will be too difficult to feed the corner through your earlobe.) Hook the bent end through the "loop" end of the earring to close it.
You can buy hoops in bulk, get a rainbow array of seed beads, and invite everyone to make zillions of pairs for themselves or to give as gifts. Happy beading!
Thank you, Megan for that fun DIY, making it quick and easy to add that finishing touch to any outfit.
Stay tuned this week for a status update on the move as well as attending my first rugby match - it was the Mustache Match, no less....details coming soon!