Katie
is here today...it is already time for Third Thursday Scrapbook Stories! I have to tell you...I am loving everything about this layout. I adore the grid design that she tried out, and you know me, I don't think that you can ever have too many pictures on a page. I am wondering if I can follow her directions and get a title to work like that for me....hmmmm.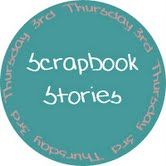 Hi everyone!
Happy third Thursday of January :)
Today I am sharing a grid layout. I am loving these layouts lately, and have been pinning them like crazy! (
Here
,
here
,
here
and
here
)
So, in keeping with my 2013 goal of "try new things", I decided to try it out.
I'm happy with my layout. I really love the title. I opened my image in Word, placed a box over the bottom 1/4 of the image, reduced it to 50% transparency, then typed in my words. I love how it came out!
But, I have a confession to make. I made, what I consider, a mistake here. My tiles are a little too far apart. But that is okay, because it is a learning experience! Next time, my tiles will be closer together.
Do you ever see things you'd like to change after you make a layout? Do you go back and change it, or do you accept it as it is and learn for next time?