We have definitely jumped right into the new year! It is once again time for First Mondays with Megan. She is going to show you how to decorate your own canvas tote bag for travel or even for daily use back and forth to school or the office. The designs and color choices are endless...if you decide to give it a try please comment here with a link, so that we can see what you have created. You can also visit Megan at
The House of Martinez
.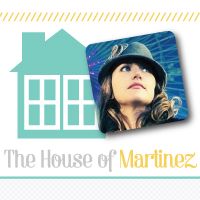 DIY: Painted Canvas Tote Bags
This next weekend will be our first road trip in 2013 so I thought it would be fun to have a couple new tote bags to carry along with us. Here's a quick and easy way to turn plain canvas bags into something fun and full of color.
MATERIALS:
- Canvas tote bags (any size)
- Blue painters tape (any width)
- Acrylic craft paint
- Paintbrushes
- Paper bag
Triangles, stripes, chevron, or any geometric pattern is perfect for this project, the sky's the limit. These bags will definitely come in handy while we travel, carrying dog toys, towels, water, or toiletries. If you're feeling crafty this week or have plans to go out of town any time soon, this is a perfect DIY to accessorize your travels.
*********************
I hope that you will stop by tomorrow. I will be sharing a few of the layouts from my latest scrapbook - Chicago Girl's Weekend. I am having a lot of fun with it and my "One Little Word" for 2013 - DOCUMENT is off to a great start!