It is the last Monday of the month (how can that POSSIBLY be) and you know what that means.....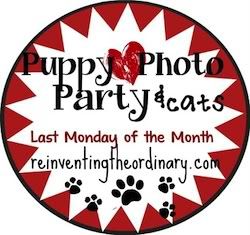 Yep, I am linking up with
Becky @ Reinventing the Ordinary
for the third monthly Puppy Photo Party & Cats. There are a few of us representin' with our felines and this month, I am adding one more to the mix. We have added four paws to our already bitty apartment. I would love to say that it has been a smooth, breezy transition....however, adding a new cat to the mix is tricky at best. There is definitely a power struggle going on and not from who you would expect. Without further delay, here is our new addition...meet Jessi...
Jessi in my parent's yard before we brought her home
Around my place, the cats seem to have a bit of zen
Wanted to show her unusual markings
Don't let her petite size and sweet little face fool you, this little girl is a pistol! She is letting Jack know, in no uncertain terms, who is boss. Much to my surprise, Jack is really trying to make friends. Unfortunately, she has turned hissing into an art form and is having no part of making nice. It has barely been a week, so I am definitely not giving up....I have very high hopes for this friendship! Jessi is another one of my parent's finds. I tell you, there must be some secret feline word of mouth because the cats in trouble FREQUENTLY find my parents. Zach and I have been the recipients of the last two. It has been on my mind lately to find a friend for Jack...I had hoped that it would be good for him and might calm him down a bit, but I guess that still remains to be seen. Anyway, I can't leave Jack out of this post....he has truly been a trooper the last week and my fingers are crossed that this union turns into a good thing in the near future. I would defnitely love to have them together in a photo eventually!\
Jack loves the metal base of this coffee table...he is not above chewing on it like a puppy...what the what???
Playing dead...it isn't just for possums
No craft project is complete without a bit of help from the man

That's it for today from the crazy cat lady (easy people, that IS a joke) but don't forget to drop by
Reinventing the Ordinary
and give Becky a little shout out, or better yet show your furbabies some blog love and link up!!!!