OK, Peeps….I am re-engaging.

And what better way to do that than to link up with the FABULOUS Shannon @ Life After I "Dew" for "So What!" Wednesday.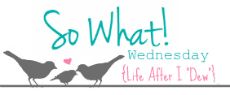 Today, I am saying "So What"…..
*if I haven't blogged in like almost three weeks.
*if I am trying to play it off like it (the lack of blogging) doesn't bother me.
*if I am slightly pleased that I am not the only one that appears to be in a bit of a blogging slump.
*if I am not loving Weight Watchers (…more on that soon).
*if I am super excited that one of my favorite bloggers Cyn over at The Chunky Goddess is back in the saddle with as much sass as ever. (Cyn – please don't hold that WW comment against me!)
*if I really want one of these "Peace" t-shirts that Shannon is sporting on her blog, but I am worried that my belly is still too dang big for a "fitted" t-shirt.
*if I am still struggling with the Couch Potato to 5K training program – I am still NOT giving up.
*if I stayed up until almost 3 AM last Friday night finishing gift bags for soccer trophies

- that is what I do people P-R-O-C-R-A-S-T-I-N-A-T-E!!!!
*if I have a new tattoo, but don't want to tell everybody the story behind it – a girl doesn't have to share everything does she?

I LOVE IT and that is all that matters!
AND FINALLY.....
*I am eagerly anticipating next Saturday when I will attend my first ever (drum roll, please) scrapbook convention!!!

Does that make me super nerdy?

Probably so, but that doesn't change the fact that I am SUPER excited….just sayin.
And there you have it....that's what I am saying "SO WHAT" to this week. I am hoping that I am back on track and will do my best to to be posting again much sooner than later!