Happy Memorial Day! Sometime today during your cook outs, lake parties or chillin' by the pool (or scrapbooking), take a few minutes to remember what today is all about and be thankful for those that that sacrificed, and continue to sacrifice so that we can enjoy our freedom.
Not only is it Memorial Day, but it is also the last Monday of the month and that means it is time for this super fun link up: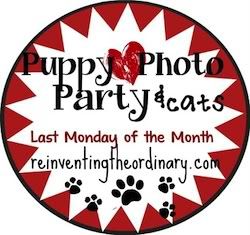 Becky at
Reinventing the Ordinary
was more than kind last month when my family went through the heartbreak of having to part with
sweet Haley.
Just further goes to prove that people with compassion for animals are the best - thank you again, Becky for your concern and kind words. They truly meant the world!
OK, so my household only falls into the "& cats" portion of this link-up, but we are representing loud and proud. I have been doing a lot of talking to this guy about how important it is for him to cooperate during the picture taking. In typical Jack fashion for every one great shot I got, there were at least 10 that were immediatley deleted from my phone. Here is our favorite beyond fiesty feline Jack in all his glory.....Enjoy!!!!! Captions provided by Jack.......
I really LOVE shoes!!! See that big slobber spot? Maybe in another life I was a puppy???
Although I tend to be a bit high strung, I balance it out with daily meditation. I am all about the ZEN!
Mom says this is the money shot - as in "I'm too sexy for my fur!!!!!" It's hard but somebody has to do it!


Thanks again to Becky for hosting this fun link up! Head over to
Reinventing the Ordinary
to see who else linked up and don't forget to check out her precious Yorkie Blake - he may be small, but his personality is HUGE!! All my photos enhanced using Instagram for Android.....LOVE THAT APP!!!! Enjoy the rest of your holiday weekend...I am off to scrap!