You guys are going to get a little break from Disney before I post the last of the album tomorrow.
Katie
is here today for Third Thursday Scrapbook Stories. Katie and her hubby are the proud owners of their first home and you better believe Katie was documenting it all...the good, the bad and the ugly in Week 7 of her Project Life album.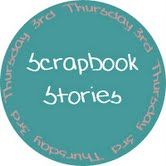 ******************************
Hi everyone!
First of all, I have to tell you how excited I am about the changes that Julie is planning for her blog (if you missed that post, you can read it right
here
) And I am thrilled to be continuing on as a contributor here. It has been wonderful to be able to share here with you, and I am so happy to be continuing!
Second, I have a
Project Life
layout for you today :)
Week 7 | February 10 - February 16


This week was a pretty crazy one around here (although really, when are they not?) In addition to all of the "regular" craziness, we were moving this week and it was Valentine's Day on Friday. Valentine's Day is my favorite holiday, and this year, we were planning on celebrating by closing on our house! Up until Thursday afternoon, everything was looking great for a 10am close on Friday morning (confirmed several times by our mortgage company)
Unfortunately, on Thursday - while the movers were packing all of our things and loading everything we owned onto a truck - the mortgage company called. Despite all those confirmations for Friday, they weren't able to finish putting together out paperwork in time (due to someone being out sick during the week!) There was a serious chance we wouldn't close on Friday. And everything they just put on the truck was being delivered to the house on Saturday!
Friday was seriously stressful not knowing what would happen. But I was so excited when I found this Project Life card because I was able to lay everything out exactly as it happened that day!
AJ managed to talk to someone very high up at the mortgage company who promised we'd close that day. But there were a few more snafus on the way, including the documents getting to title late, and then the document file not opening, and then the mortgage company not wiring over the money for the seller! It was all crazy, but we finally closed - only 8 hours after we thought we would.
We were so happy to finally have the keys in our hand. And to be in our own home! It was the best first Valentine's Day present :)
AJ and I can't be alone in this home closing drama! Do you have any crazy house buying stories?
******************************
Thank you, Katie for being here today and sharing such a special time with my readers! Don't forget to stop by tomorrow to see the last of my Disney album. And people, I got the first glimpse tonight of some of my design elements for the new blog design....I was squealing with delight....so much different than my current design. I can't wait! Make it a great Thursday!