It is that time again and
Katie
is here for Third Thursday Scrapbook Stories. If you are new around these parts, Katie doesn't just scrapbook....she does all kinds of crafty goodness...and then sometimes scraps about it too! I truly consider it a blessing to have her here each and every month sharing her talent and passion for scrapbooking! If you love what you see, make sure to drop by
Katie Stories
, and tell her I sent ya!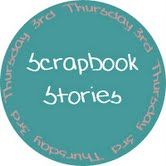 ******************************
Happy Thursday!
This month just seems to be flying by. Maybe its because its the shortest month of the year, or maybe its the craziness of moving into a
new house
. Or maybe its just because we are getting closer to the end of the school year and I'm counting down the days!
But no matter what it is, it is flying by.
This month, I wanted to share a layout about crafts. Specifically, wedding crafts. We
(and by we, I mean my mom and I...not AJ and I!)
made almost everything for the wedding. From the table numbers to the banners to the guest book, centerpieces, menus, invitations...the list goes on and on.
And most of it we did in one weekend last January!
So you know it had to get its whole own layout :)
I really wanted to keep this one simple, so the crafts could stand out on their own. All I used was a fall-themed 12x12 piece of paper, some Recollections (I think) alphas and a journaling card from the Project Life Wedding kit that Julie so awesomely gave me in September. Because she rocks! Thank you Julie :)
I'm really glad that I have this layout and these pictures from our craft weekend. Even though my photographer did get shots of all of my crafts, its nice to remember everything that went into making them as well!
Do you ever scrap about any of the projects you made, or any of your other hobbies?
******************************
Another fun layout from Katie and I am so glad that she is putting her Wedding Kit to good use. I have a feeling when she gets started on that wedding album, we will see a lot more of those cards pop up!
Things seem to be moving at lightening speed lately, and there just doesn't seem to be enough hours in the day. I am trying to get my groove back, but quite honestly I am having a hard time. It must just not be me, because I have seen a few VERY regular bloggers, announce that they are taking a "length to be determined" hiatus....maybe it is something in the water. Anyway, a lot has been going on, but it just seems kind of weird to post things that have happened weeks ago...I don't know, maybe that is just me. As some of you know I attended an all day crop last Saturday, and I managed to all but finish my main Disney album - 8+ years after the fact..lol. I have some finishing touches to add to it and then I will definitely be sharing it here. I really love it and am so happy that I made it a priority to get it documented for Zach. Lots of good memories!
I am attending the
Scrapbook Expo
on Saturday with a fellow scrapbooker from work. I am really excited about that and can't wait to see all the goodies. I am only taking a set amount to spend and will not go over my limit, so I have to choose very wisely! I hope that I will come out with a few new items to add to my stash and a lot of great inspiration.
Have a great day and thank you so much for stopping by!