Like the first half of this year, August is flying by. Can't believe it is already time for the August edition of Third Thursday Scrapbook Stories.
Katie
is sharing a simple but cute layout recapping her New Year's Eve. I am not going to steal her thunder, so here's Katie to tell you about her layout.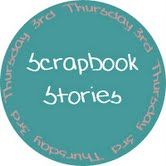 Hi everyone! Happy Third Thursday of August!
Over the summer, I have more time to scrap (usually!) and I end up going back and scrapping things that I may have missed out on during the year.
One of those things was New Year's Eve.
Our New Year's was super quiet, and I wanted to reflect that in the layout, so I made a very very simple layout.
Even though this isn't my "usual" style, it wasn't a usual New Year's either! But I'm really happy with how it came out. It reminds me a lot of that night, very calm and not busy at all!
What do you usually do for New Year's? Do you like to go out and party, or do you prefer to stay in and have a quiet night? We've done both, but I really liked having a quiet night last year!
********************
Three weeks from tomorrow sweet Katie is flying to TX to visit little ole me. I cannot tell you how excited I am to finally meet her in person. I am not sure if I had started reading her blog when I was in Chicago - I think that I found it right after. But when I was there she and her fiance still lived there. Anyway, she and AJ have since moved to Baton Rouge - which thankfully is a bit closer to me. Her fiance will be enjoying his bachelor party weekend and she is having a weekend getaway to Texas.....EXCITING!!!!!!! It will be a short visit, but we are going to try to squeeze in a cattle drive in the Ft. Worth Stockyards, killer margaritas and I am going to find her some good Texas BBQ. Stay tuned....I am sure this is not the last you will hear about it!