Why yes, I am still alive....but I have had a horrible case of "I have nothing to say".....sad but totally true. It isn't even writer's block I don't think, just nothing that I really thought you guys would be interested in. There is a whole lot of random swimming around in my brain that I guess I can share in list form at which point you all may wish that I would have just kept it to myself. Here goes nothing......
*my baby boy started junior high yesterday....which is scary enough as it is (at least for me), but this is his first time in public school - he has been in a bubble for the last seven years and mama is freaked out!
*I am beyond excited to FINALLY meet
this
sweet lady in person a week from Friday. Katie is flying to the big ol' Lone Star Sate to see me for the weekend...EEEEKK!!!!
*the weekend after that I am heading to the Sunshine State with these beautiful ladies for Girl's Weekend round 2....Round 1 was Chicago 2012. I cannot tell you how much I am looking forward to some beach time and catching up with dear friends......MUCH needed. Luckily Jennifer lives in Orlando, so she and her husband are playing hosts for Megan and I. They have a beautiful house on the lake that I can't wait to see!
*as I briefly mentioned literally months ago I finally got a DSLR....it was a gift and it kind of just fell into my lap. Unfortunately the first night that I had it...the case was dropped and the fancy zoom lens that I had (although, I really had no idea how to use it) ceased to zoom. Cue the tears...seriously! There was actually a Nikon repair store not too far from home so I took it there. The owner told me that although my camera was old, it was a great camera...all metal fittings and the new ones of course are plastic. He was skeptical that the lens could be repaired, but suggested that I think about it and also check ebay. I would have had to pay $55 just to have the lens looked at with no guarantee and then an additional $75 plus if it could actually be fixed. I scored a perfect condition, totally functioning one on ebay for $107.25. Go me! I am back in business and ready to capture something great on my Florida adventure. But remember, I still can't use that thing off of AUTO. I do have two online classes through
Shoot Fly Shoot
that I am dying to delve into. I am a visual learner so I am hoping they are really going to help me! Can't thank KF enough for his generosity...I am beyond blessed!
* I am still making progress at my new place, but there is still so much that I want to do. I wanted to have my gallery wall done by the time that Katie came to visit, but I just can't commit yet. I have a lot of ideas but am so chicken to commit, for fear that I am making the "wrong" decision. I know - pathetic isn't it? Still need curtains and the Expedit storage system for my scrapping supplies. I did make progress on the outside a couple of weeks ago. A friend from work came over and helped me with seven bags of mulch and she transplanted some plants from her place to my mine. Some didn't take too kindly to the move and some are thriving. I am getting compliments from several neighbors about the fact that I am taking care of the yard. My duplex is a rental and apparently the last few renters did absolutely nothing, so I am feeling good that people are noticing. I like for my place to look nice (although, I was not blessed with a green thumb)....even if it isn't actually mine but we are are planning on staying at least until Zachary graduates from high school, so I want to make it a home for us.
We went back for 4 more bags of mulch and this was prior to weed pulling
*My dear friends
Holli
& Todd are getting married at Delaney Vineyards in Grapevine this weekend and I seriously could not be more excited. They are the most fun couple and things have been pretty crazy for them since their engagement in December......they so deserve to have the most wonderful of wedding days....I cannot forget my kleenex!!! I have loved doing little crafty projects for them for their wedding. They are leaving little goodie bags at the hotel for their out of town guests and she wanted them Texas themed.
At least I warned you...I believe that was the worst case of random that I have ever posted at one time. I guess I did have things to say just nothing on it's own worthy of an entire post...lol.
Finally, just to give this post some street cred (yep, I did jut say that). I am linking up with
Holli
,
Leslyn
and
Lauren
for: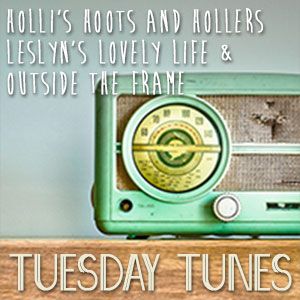 I LOVE this song.....I am quite sure that men like this no longer exist, if they ever did, but a girl can always dream can't she????? I am betting that a woman wrote it, so of course I looked it up. BINGO.....A woman did CO-write it. Thank you Rodney Clawson and Ashley Gorley! Enjoy!
Even though I was a day early, I am also linking up with Megan from In This Wonderful Life for Midweek Randoms, because lets face it....this post was ALL about the random.