Katie
is here today for the June installment of Third Thursday Scrapbook Stories. I always love to see her latest layout and she never disappoints! As you will see below, she is a die hard baseball fan and really those are the very best kind of fans. On a side note, from a very reliable source I hear that Katie may very well be visiting The Lone Star State - I can hardly stand it!!!! Stay tuned for more details.....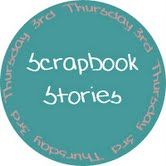 Its June (already!) Which means baseball season is in full swing!
Of course,
my team
isn't
very good
consistent. And unfortunately, more often than not, amazing wins are followed by loooong losing streaks.
But, that doesn't stop me from
loving
baseball season! And catching a game whenever, wherever I can.
And, of course, being at the game calls for a layout! Sometimes though, I don't want to do
(one of my)
traditional baseball layouts (like
this one
and
this one
).
So even though I was scrapping a baseball game, I broke out the Halloween paper...
I love the stars, because they so remind me of looking up in the middle of a night game. And even though its not decked out in team colors, pennants, logos and mascots - I'm super happy with my not-so-traditional
(for me)
baseball layout!
Do you ever get stuck in a box for repeated events? Or do you like to jump outside of it!